Rosedale Development Association
This year is the 150th anniversary of Rosedale becoming a township in the great state of Kansas.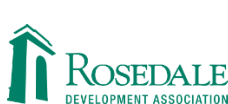 To celebrate and honor Rosedale's history, the Wyandotte County Historical Museum recently hosted a Rosedale exhibit.
More information about this exhibit and history can be found at the Museum's website.
A History of the City of Rosedale, Kansas by Margaret Landis. Copyright 1976.
The Winding Valley and the Craggy Hillside
Chapter I
PROLOGUE TO ROSEDALE
The title: "The Winding Valley and The Craggy Hillside" is descriptive of the physical geography of Rosedale.
Geographically, the position of Rosedale lies South of the Kaw River in Wyandotte County, Kansas and, if we choose to be technical, between the 94th and 95th Degree of West Longitude and about the 39th Degree of North Latitude.
The Kansas City Public Library Archives:
Explore thousands of digitized photographs and material related to the history of the Kansas City region.
The Kansas Historical Society Archives:
Research your family history, your historic house, or discover more about your community.
Wyandotte County Historical Museum:
The Wyandotte County Museum is celebrating 150 years of Rosedale History with a new exhibit.
History of Rosedale schools:
Rosedale 1885-1973 Graduates Listings prepared by Lawrence R. Rollins from the old school library index card files and from class yearbooks.