Rosedale Development Association (RDA) had an amazing All-Rosedale Clean Up! RDA envisions a place where all people feel safe and connected and live in quality neighborhoods. We believe that together we can make a difference in the Rosedale community.
First, let's thank the volunteers that attended this event! Together, a group of 53 volunteers, dedicated their time to keeping Rosedale clean and safe for everyone to enjoy, "THIS IS AMAZING!". Together, we collected 92 bags of trash, plus 10-11 tires, and other junk that was dumped in our neighborhood. Double thumbs up to you!
Let's not forget to thank all volunteers that signed up to attend on the initial date and that were not able to attend due to the change. We missed you! Next year we are planning to have the All-Rosedale Clean Up, on Saturday, April 27, 2024, the last week of April to hopefully avoid a rainy day.
Volunteers suggested cleaning locations through our "Submit a Spot" option on our website here. Here is a link for any Rosedalian to submit a Rosedale site in need of a little beautification.
The "Submit a Spot" option all year round. Which means that you can submit a site any time. Although we will not be able to attend those sites immediately, RDA will keep the list of the areas and plan to attend during the year, when we get other volunteer groups.
These are the sites that ARC day volunteers were able to attend this year:
More photos from the All-Rosedale Cleanup are here!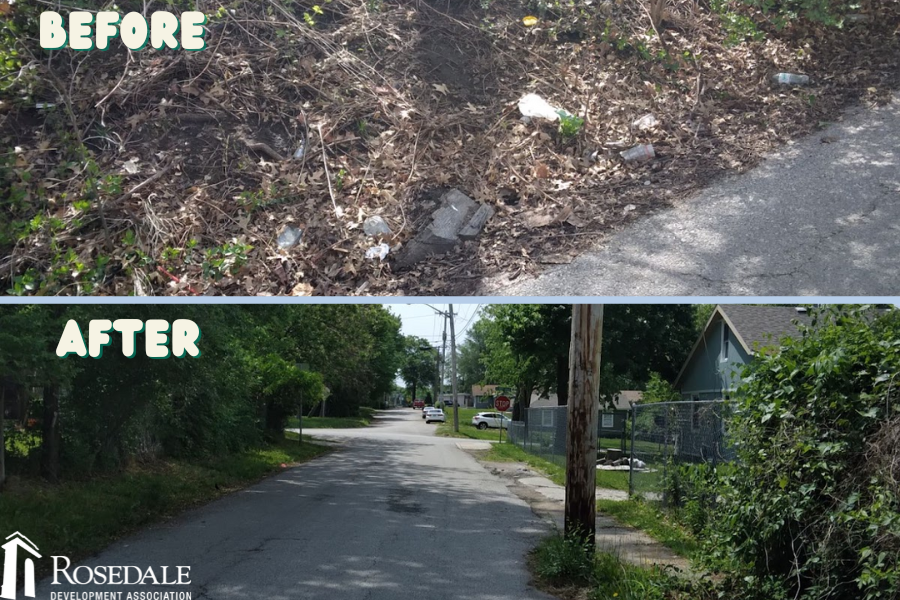 The Alley between Minnie Street and Cherokee St. was submitted by a volunteer and RDA contacted her via email to ask if she wanted to be a lead on the group attending to this site and this is what she replied with;
"I was actually able to get out there a few weekends ago and clean up a majority of the garbage with the help of some friends and a dumpster delivery I think I can handle what remains by myself on Saturday — at this point it's just trash/cans/bottles".
We want to thank Megan for being such an awesome neighbor.
If you have a volunteer team that wants to volunteer in the Rosedale community, but don't know how to start, please contact Nancy Esquivel, Volunteer Coordinator at 913-214-1557, or complete the Volunteer Interest Form, and let us know you have a group.
We can help coordinate your group or give you a site that has been submitted from the submit a spot option.
Great volunteers are hard to find, but we found you! We know that volunteers don't necessarily have time, but make time to make Rosedale a connected and beautiful community!
Rosedale Development Association is grateful to have you as a volunteer!