The Rozarks Trails are a system of hiking and biking trails with a length of 4.5 miles in the woods of Rosedale. With trailheads at Mt. Marty Park, Fisher Park, and Minnie St. (near Seminary St.), this trail was built by hundreds of volunteers and is currently maintained by RDA.
RDA has scheduled several dates to work on the trails this year. We will continue accepting new volunteers to help us keep the trails maintained.
We canceled the trail workday scheduled on March 25th, due to weather. We were able to have our first workday on May 6th. This was a beautiful day to be out on the trail! Some visitors stopped by and asked questions about the trails, so we explained to them that mostly volunteers maintain the Rozarks for everyone to enjoy!
With just a small group of dedicated volunteers on May 6th, some trash was picked up and trail branches were trimmed, to make sure everyone can walk on trails safely.
Who doesn't like Nature?
Our Executive Director and a dedicated volunteer got rid of honeysuckle, while other volunteers went into the trails.
This volunteer group contacted us this year and scheduled their own date and time to clean up Fisher Park and the trails. Way to go guys!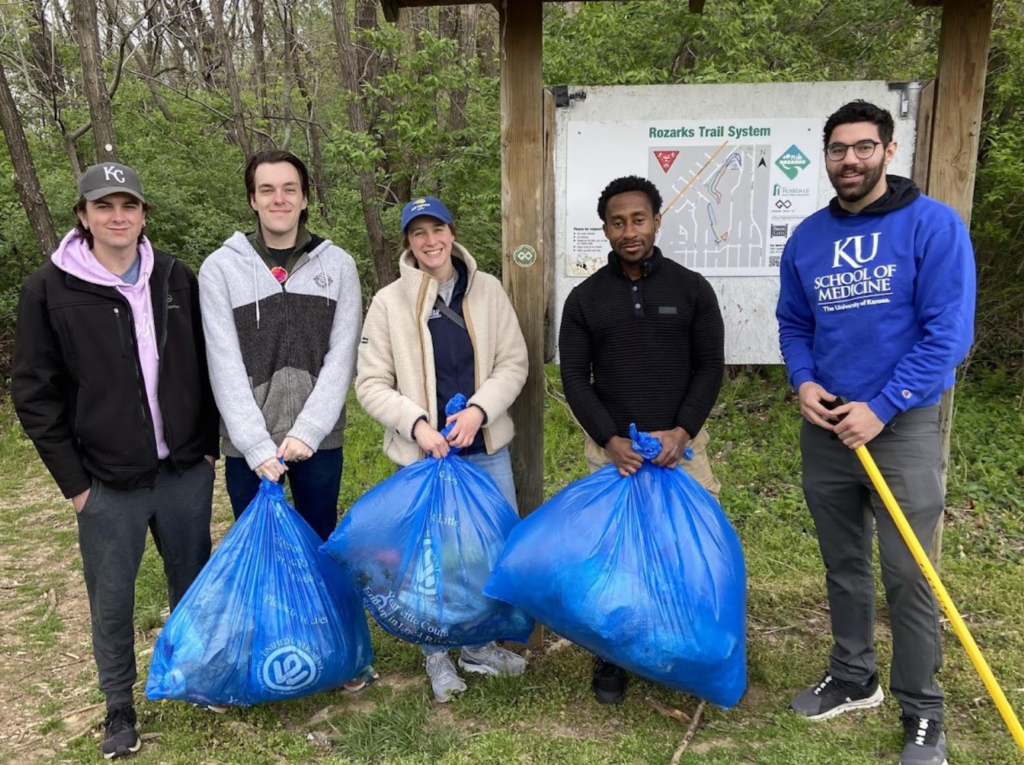 If you want to join one of our scheduled dates, don't hesitate to contact us!
We are excited to partner with Cycle City to and host four free trail building and maintenance throughout June! If you are interested in learning more about what we do feel to join us.
Each workshop will take place at the Rosedale Memorial Arch from 6:30PM-8:30PM:
June 8 , 2023
June 15, 2023
June 20, 2023
June 29, 2023
Also, if you have a group that wants to volunteer in the Rosedale community or Rozarks, please contact Nancy Esquivel, Volunteer Coordinator at 913-214-1557, or complete the Volunteer Interest Form! We can help coordinate.